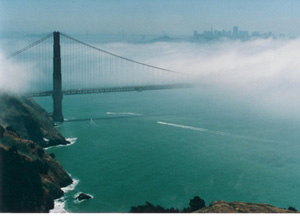 Welcome to The Accidental Photographer, tips and fun ideas from my The Accidental Photographer for the Camera Bag guide and workshop which can help you take great photos when you are out and about anywhere.
I'm Marsha Black, author of The Accidental Photographer, a book full of tips written for people who carry a point and shoot camera or smartphone but don't have a clue about how to get good photographs out of it.
This photograph of the Golden Gate Bridge is one good example. I took this photo when we stopped briefly at the viewpoint. I used two simple concepts, light and lines, to turn this photo from "Yeah, it's the Golden Gate Bridge" to "WOW, It's the Golden Gate Bridge!". Even if you feel like you are a klutz with a camera, you, too, can learn these tips quickly and easily so you can enjoy your photos as much as I do.