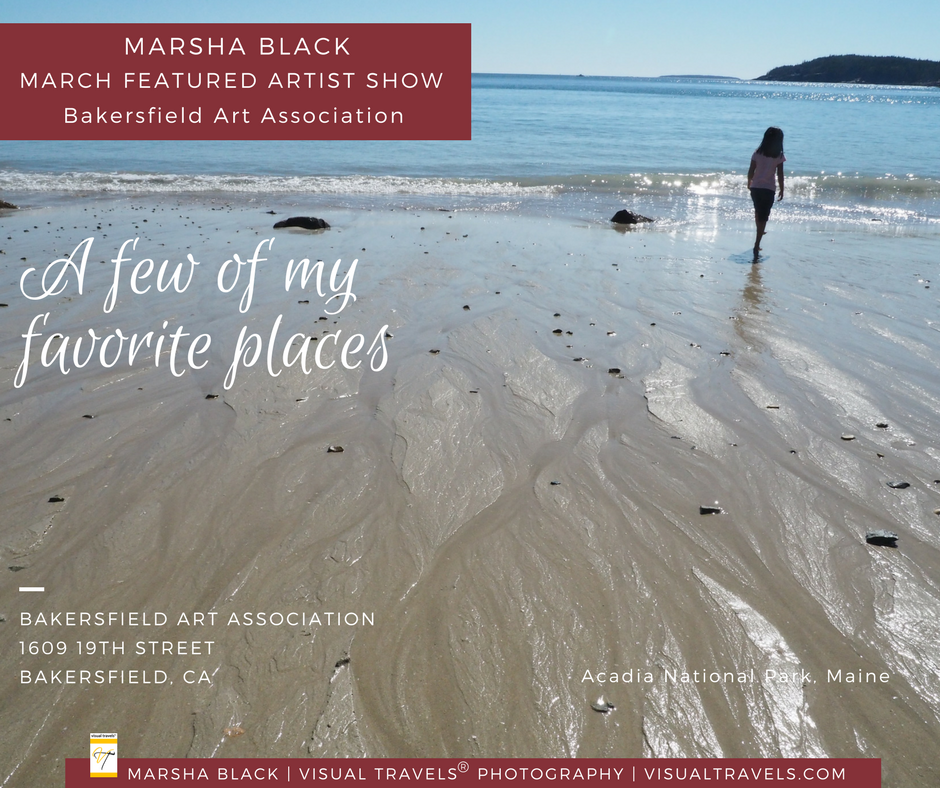 I am delighted to be the Bakersfield Art Association's Featured Artist for March, 2018 and exhibit my new show, "A Few of My Favorite Places" from around the world.
Join Us!
Show Dates: March 1 – 30 2018 | Opening Reception: March 2, 2018  | 6-8pm
This show contains some new photographic prints from my recent travels, such as the photo above, "Sandy Beach," at Acadia National Park which is located on an island off the coast of Maine. To catch the light and texture of the sand, I had to bend down really low. Thank you, ****, for teaching me how to do Sumo squats!
In this show are photographs of some of my favorite local places, such as the Golden Gate Bridge, wildflowers at Wind Wolves Preserve, and a photo I took while walking the coastal trail at Pacific Grove.
And you will find prints of special places, a few of which are Monterosso, the principal town of Cinque Terre, Italy, a French cottage we found as a B&B which once was the home of bishops for a small town church in Burgundy, France, flowers from the formal garden at Veux le Viscomte, a beautiful pink and purple Canadian sunset in Ketch Harbour, Nova Scotia and this lighthouse on Campobello Island, New Brunswick, Canada, FDR's place to escape the rigors of the Presidency.
So, take a good art break and stop by to enjoy these photographs of such special places.
To Learn More: Here is the Featured Artist Announcement from the BAA March 2018 Newsletter: