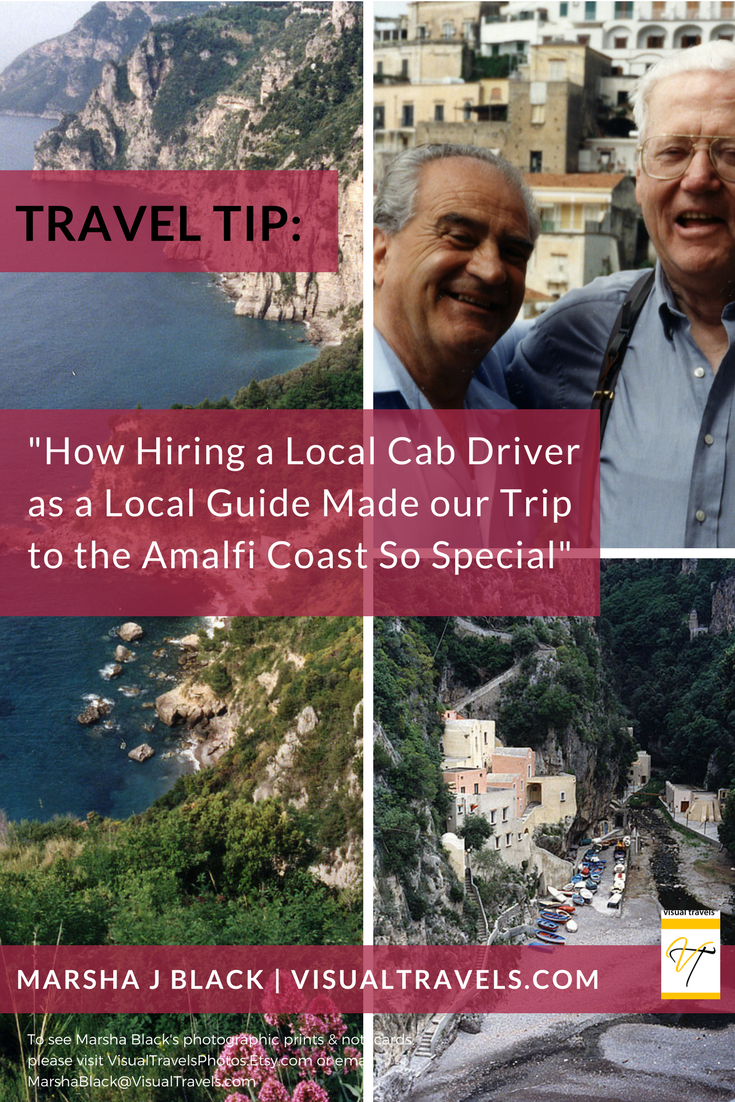 Independent travelers love to manage their own trip, get closer to the people and culture they came to see, and enjoy the challenges of being in charge of their experiences. Sometimes, though, it pays to access local talent to enhance those experiences.
My husband and I decided we needed local talent to visit the Amalfi Coast on a trip to Italy. We had heard and read about the horror stories of navigating its winding narrow path through the precipitous cliffs and dealing with local driving culture. We also didn't want the pre-set views and stops that taking a bus would entail. In one of our guidebooks, we found a reference to a local cab driver, Carmelo, who did half-day tours of the Amalfi Coast. We contacted him and made arrangements for a full-day guided tour.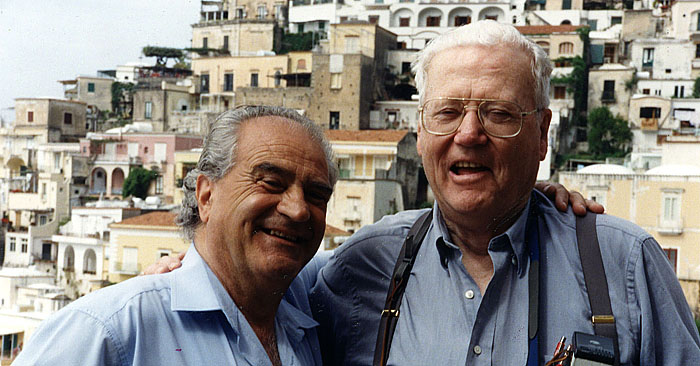 Carmelo found out that I was a photographer and made sure to include some gorgeous photo stops along the way. The experience was beyond wonderful and it taught us a valuable lesson about the benefits of accessing local cab drivers as guides to local sites which we continued to do as we traveled independently through Europe over the next several years. Even though we had a packed itinerary (and it's easy to just stick to the plan), being flexible and rearranging our schedule to include this full-day tour with Carmelo made this trip so special. 
Here's a story I wrote about our full-day tour with Carmelo and the wonderful surprises of people, place and food we were treated to that day.
An Amalfi Surprise
"We see La Bella Sorrento first, is OK wit' you?" Carmelo asked us as we pulled away from the taxi stand in front of the Sorrento train station. The morning air was crisp as he drove his vintage Mercedes slowly and sanely, a feat unheard of in this part of Italy, to the harbor. On the way, he peppered us with tales: "Sophia Loren, Gore Vidal – in my cab!" Each special story ended with "Thank you, Santa Maria." When he stopped at crosswalks for tourists, muttering "respect t'e touristi," I knew we were embarking on a unique tour of the Amalfi Coast.
Finding Carmelo had been easy. We noticed a line or two in one of our guidebooks about a cab driver who did half-day tours of the Amalfi Coast. We faxed him a list of questions and waited for the response. Over a two-month period using faxed communications, we juggled an already-full itinerary and made arrangements for an all-day guided tour. We knew it would be a quick overview, but I kept telling myself we could take a deep breath and handle it. We will miss seeing this spectacular Mediterranean coastline with its cliff-hanging towns if we don't do this, I said to myself, pushing back my reservations about the fast pace. It will be worth it.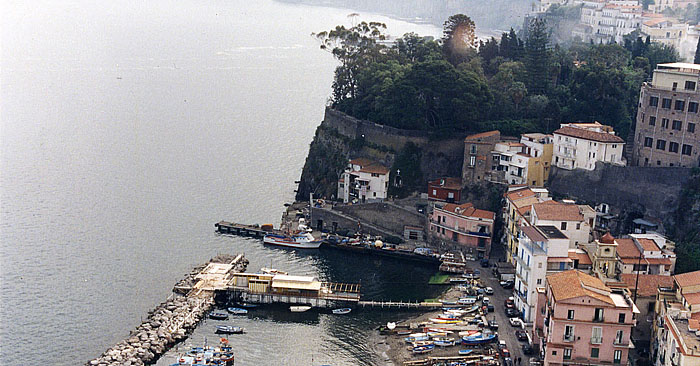 At 6:30 am, with the help of a local good Samaritan, Dale and I had followed the signs through the Naples train station to the Circumvesuviana platforms and found our train to Sorrento. As we sped south along the Bay of Naples during our hour-long ride, I noticed the train would emerge from tunnels into brilliant blues and pinks of a coastal sunrise. I realized when we did our planning we hadn't paid much attention to the train route from Naples to Sorrento and what we would be seeing. I knew the train stopped at Pompeii – we were actually planning to take it there the following day – but I hadn't expected to see Mt. Vesuvius. When the distant peak popped into view, we duly noted its proximity to well-populated cities. A fellow passenger commented that the last eruption had been in 1944 and that it could blow again any time. "My God," was all I could think as the implications began to register.
As we walked out of the Sorrento train station, I saw a line of what appeared to be unmarked cabs off to one side. Carmelo, a grey-haired man of medium height and stocky build, activated well-worn laugh lines as he broke into a friendly smile and held up the sign with our name. We began our tour with of Sorrento, stopping at several viewpoints along the harbor at the tip of the promontory point.
He pointed to the sites of Greek and Roman history etched into the cliffs. Makes sense that the Greeks and Romans would settle here, I thought, as I began to absorb the strategic positioning of this city, built on a piece of land at the end of the peninsula that juts due west into the Mediterranean Sea. The peninsula parted the waters, creating and separating the Bay of Naples from the Bay of Salerno. The projecting point on which Sorrento was located would have allowed a full view of any approaching army or armada.
From Sorrento to the Amalfi Coast Road
I longed for a slow wander, to study and hear more about the original Greek settlement and Roman history, to poke along the Antique Walls and savor the spectacular vistas. The best we could do, though, was a slow drive through the historic town to the beginning of the Amalfi Coast road that had been chiseled out of the cliffs facing the Bay of Salerno. I sighed and smiled in appreciation, reminding myself of our last-minute compromises.
Carmelo had tried to make up for this predictable eventuality. "Have informations," he said as he handed us copies of articles in plastic sheets. During the four-month "off season" he had researched articles written in English about Sorrento and its history for us to scan as we went. In his punctual but unhurried manner, he shared his philosophy of taking the day and the drive piano, piano, slowly, slowly, as we hurried past ancient streets, the Basillica of Sant'Antonino, the Chiostro, craft and clothing shops and outdoor markets filled with oranges and lemons, sweet red, green and yellow bell peppers and other produce from the region. Reasons to return, I thought, trying to console myself. We can't see everything in one trip.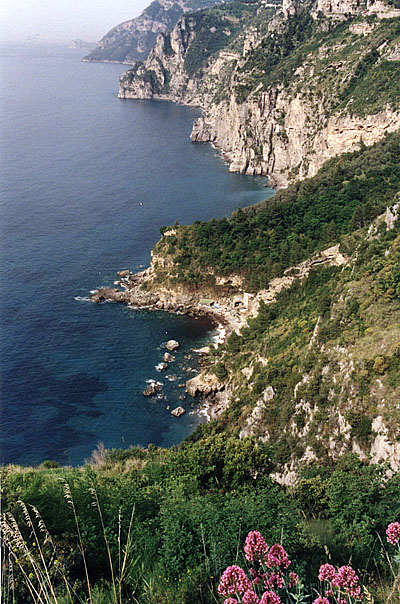 As we left Sorrento, Carmelo stopped at a hilltop overlooking both the city and the famed Amalfi Coast, the southern coastline of this peninsula. Surely we haven't come all this way just to see Big Sur, I thought to myself as we looked down at the coast and began our drive. The steep, eroding cliffs plunged into the ocean; the narrow, winding road cut a fragile ribbon through hillsides covered with rugged deep green bushes and small trees, contrasting with delicate pink, purple and yellow wildflowers. The views reminded me very much of the central California coast. Carmelo acquiesced when we begged to stop for a view and photos, reminding us that we had a lot to see that day. We were at the beginning of our drive through five of 14 the coastal hill towns.
Positano: So Tempting to Stay but we Must Move On
We soon arrived at Positano, a small town that hugs and climbs the hillsides about halfway between Sorrento and Amalfi. Carmelo left the main highway to drive us through the narrow streets filled with expensive-looking women's clothing stores, upscale cafes and hotels and lots of tourists. Since we had requested photo stops along the coast, he had arranged for us to stop at Le Sirenuse, a luxury hotel just outside of Positano and built on the cliffs overlooking the Mediterranean.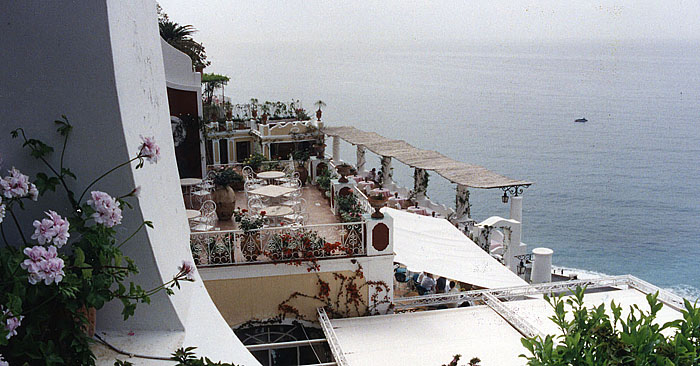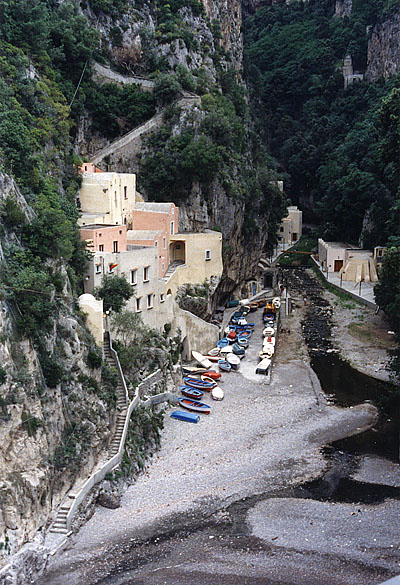 On the terrace, we looked back on the white-washed packed town and realized how precariously it hung from its perch. In the distance I could see the winding cliff-side road over which we had just traveled, courtesy of Carmelo's driving, and was relieved that we had heeded the guidebooks and not tried to do it ourselves.
The terrace tempted us to stay. White archways set off two-foot high deep green and blue jugs that were positioned along the sea-blue walls. I could visualize Dale and me sitting at the small white tables and chairs placed at random among the potted flowering vines and gazing hypnotically across the smooth, azure water. I imagined us slowly exploring the town's historic streets. But this was not to be. We had many more towns to see, and so we moved on.
Amalfi: the 9th-11th Century Seat of the Powerful Republic of Amalfi
At around 11am we pulled into a parking space reserved for cabs right at the entrance to the town of Amalfi, in a parking lot packed with buses and cars. Although today Amalfi's claim to fame is as a major tourist stop, it was once the center of the seafaring Republic of Amalfi and competed with the medieval maritime powers of Genoa and Venice.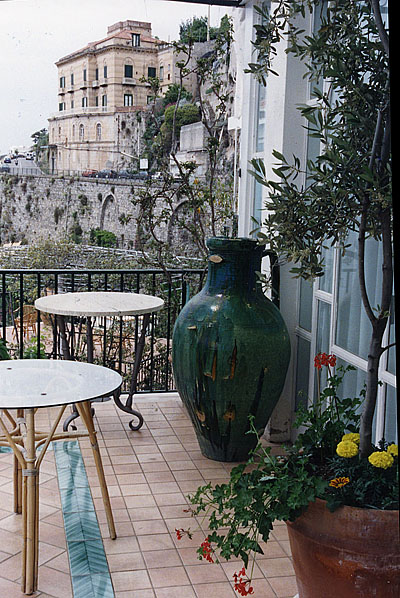 Raids by pirates and a flood in the 14th century were the cause of its decline. Since the town is located at the slope of the Lattari hills and overlooks the Bay of Salerno, neither its current popularity nor its historical importance was difficult to understand.
Carmelo pointed the way through the traffic and throngs of tourists into the main town square, Piazza del Duomo. "Piano, piano, slowly, slowly," Carmelo said; we would have just an hour to tour. We wandered off to the Basilica of the Crucifix, which faced the main square. The sixth century structure had been restored in 1994. We took a few minutes to view the trussed wooden ceiling and the 16th century fresco of the Madonna with Child, but had to skip the museum. That gave us barely enough time for a quick tour the Chiostro del Paradiso. The 13th century church interior originally built to support a cemetery was dramatically offset by the luxurious garden of trees and ferns in the center of the Chiostro. For the first time, we noted an Arabian influence in the architecture.
Hunger was gnawing at us. Our breakfast had been five hours earlier on the train. Since my inquiries about lunch had been met with a grin and no comment, we grabbed a quick snack at one of the restaurants on the Piazza del Duomo before touring the shops and rushing back to our waiting taxi. Piano, piano.
"Beep-beep," I heard, as we rounded the bends on a narrow road, climbing through the foothills above the coastal thoroughfare. When Carmelo answered with his own horn, I knew we were witnessing an unwritten safety rule-of-the-road and not impatient drivers.
Scala: "Steps" in English
"We see Scala, is OK?" he asked as we followed the twists and turns up the hill. "Scala is 'steps' in English. You will see."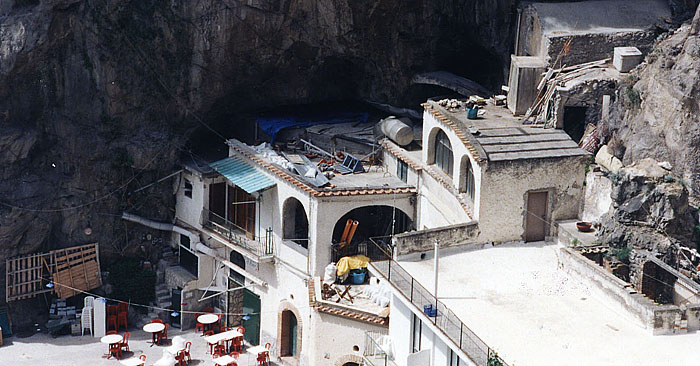 And so we did, amazed that food could be grown and people could live hanging on "steps" carved into the side of the hills.
Food, Gardens and Special Places in Ravello
It was well after 1pm when we entered Ravello, a small town located on a point about a thousand feet above sea level. Its village atmosphere and stunning views have made it a destination hang-out for the rich and famous over the centuries, beginning with the writer Giovanni Boccaccio, who referred to it in his Decameron, written in 1350. We would soon have more modern proof of Ravello's importance to the wealthy.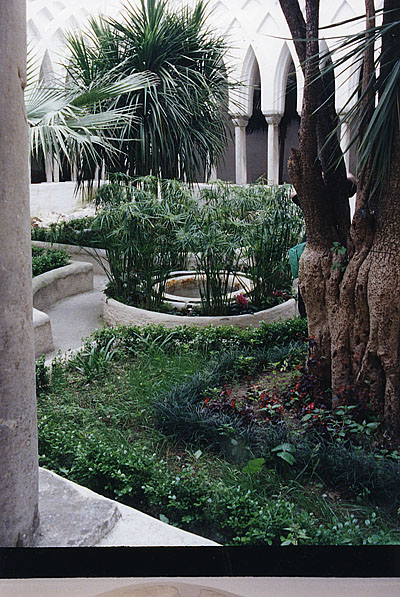 First, however, Carmelo gave us 15 minutes to see the famous formal gardens overlooking the water at Villa Rufolo.
Finally, Carmelo guided us to Cumpa Cosimo, a small trattoria on a side street off the main square, for our lunch break. He pointed to the photos on the wall.
"Look! Jackie Kennedy was here; photo on t'e wall!" He waved at a waitress and we were seated at a small table, jammed among another twenty or so of similar size placed randomly throughout the room.
The yellow painted walls were covered with photos similar to the one Carmelo had just shown us. We could tell by the odor of herbs, garlic and tomatoes coming from the open kitchen lining the back of the room and the Italian voices filling the air that this was a place reserved for locals. At my continued "lunch informations" urgings, Carmelo had promised us great food at a low price, and we weren't disappointed. We ordered minestrone, local white fish, ravioli stuffed with cheese and spinach, the house flat bread and local red wine. Now I knew why he'd made us wait for lunch. We could have stayed for hours, but the next stop beckoned.
Paestum: An Ancient Greek City and Archeological Site
It took well over an hour to drive from Ravello to the Greek ruins of Paestum. As Carmelo found his way through the autostrada maze of Salerno and onto the road south down the coast to Paestum, we chatted about drivers – "too fast; piano, piano;" the Italian economy – "south is poor, non lavoro, no jobs; north is rich, molto lavoro, many jobs;" traffic – "molto machine, too many cars;" tourism –"respect t'e touristi is our work," and other related topics. With his ten words of English and my 150 or so of Italian, we laughed as we sorted out linguistic slips such as my confusing lavoro (work) with lavaro (wash) and discovered small-world commonalities such as being in Locarno, in the Italian section of Switzerland, at about the same time. Our language "barrier" facilitated some of the liveliest and most interesting discussion topics of our Italian trip.
At 4pm we pulled into the parking lot by the entrance of Paestum, and Carmelo pointed down the street, indicating the Ticket and Information office. "Piano, piano," he said. "You have two hours to see."
The clouds, which had been forming all day, were beginning to drip moisture, so we bought a guide to the outdoor ruins and began our tour, photographing what we could in spite of the weather, hoping to finish before most of the rain fell. Workmen had some parts of the Temple of Neptune under scaffolding as they applied chemicals to remove the salts from the original cement and stone work as part of a preservation effort.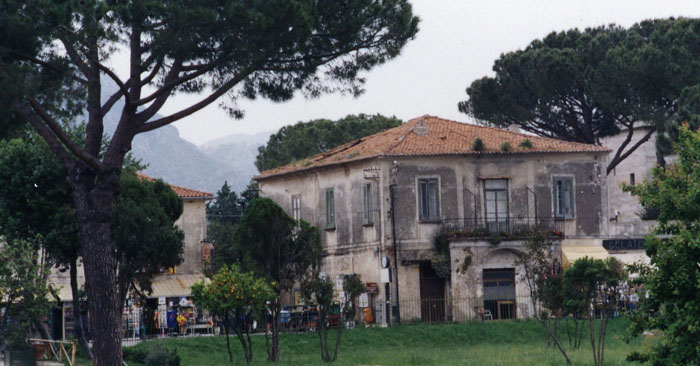 Fortunately, we had a clear and unobstructed wander through the Basilica and the Temple of Ceres. We dodged the drizzles and wound through the outdoor theater and visible remains of the underground shrine. An incredible sense of antiquity washed over us as we tried to imagine being Greek centuries ago and living in this cultural outpost. We wanted to linger among the ruins and visit the museum, but it was time for Carmelo to take us back to Naples.
By the end of the day, during the hour and a half drive back to Naples, we sunk into the comfortable Mercedes seats, exhausted. Carmelo let us rest and talk as we felt like it. As he navigated the highway and byway system of roads, I recalled that our original plan had been to see Pasteum and return to Naples by bus from Salerno. There's no way that would have happened; the distances were too great and the schedules too erratic. Thank you Santa Maria!
Back to Naples and a Toast to a Wonderful Travel Adventure
Naples frustrated Carmelo, with its winding hillside streets and lack of signs. "Respect t'e touristi," he kept muttering as he wound patiently through the maze of streets and intimidating car and pedestrian traffic, calling out the window to shopkeepers and policemen for directions because there was "no informations" about what street he was on. The hands on my watch crept closer to our 8:30 dinner reservation time. In the end he dropped us in front of our hotel, The Grand Parkers, just in time for us to change for our reservation at the Garden Terrace Restaurant on the top floor of the hotel.
As we settled at our table, I took a deep breath and thought about our whirlwind tour of the Amalfi Coast. I took a sip of wine and savored the environment. No schedule; no "next stop." Our dinner table overlooked an expansive view of the Bay of Naples. The sky reversed its morning transition from pinks and blues to grey and black, silhouetting the jumble of buildings and narrow streets before street lamps outlined the city with pinpoints of orange light. As we savored the meal and wine and soaked up the view, our visions flashed to our unforgettable introduction to the Amalfi Coast made possible by Carmelo. His friendly smile-lined face will rest permanently in our memories. We toasted this incredible day and paid homage to our travel gods for honoring us. Piano, piano I said to myself, and meant it.
Marsha J Black is a world traveler and photographer,  founder of Visual Travels™ and her Visual Travels Photos Etsy store. She is also the author of "The Accidental Photographer for the Camera Bag" which is filled with easy, nontechnical and practical tips to help you take photos of your special memories with ease and elegance at home or during your travels with any camera.