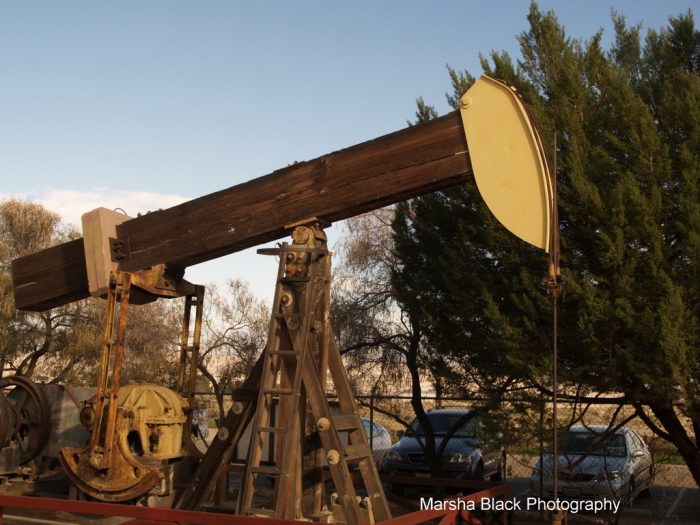 West Kern County Oil Museum:  Museum Location
From Maricopa through the valleys and hills to McKittrick, Taft, located about 25 miles southwest of Bakersfield,  has become the center of the Kern County Oil history legacy.
West Kern County Oil Museum: Tower, Derrick "Where is that?"  The formal title belies its location.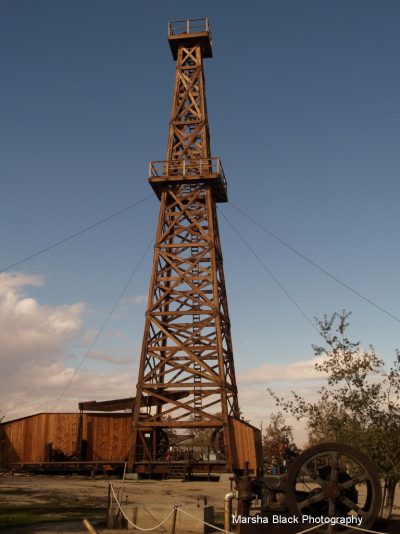 The Taft Oil Museum, as it is known locally, began with a donation of three acres of land and has grown to eight acres.  The Museum tells the story of what life was like in the early days of Taft and the other cities supported by Oil, when oil fields and derricks and towers covered a distance of about 21 miles through southwestern Kern County. The native plant landscape of the museum is also the focus point of special tours which illustrate their uses by Indians and early pioneers, completing the story of the settlement of this off-the-beaten-track treasure.
The exhibits tell the story of the oil companies, of everyday life in the early oil fields and in the oil camps, as well as the story of oil itself. Volunteer docents, many of whom were part of the oil legacy of Western Kern County, add life to the narrative of the exhibits. The exhibits continue outside, where at the press of a button, a pumping unit will produce oil. A second building tells the story of the science, geology and production methods of oil and its current uses.
In the mid 1920's over 7,000 wooden derricks, a veritable forest,  covered  the hills and valleys from Sunset southeast of Maricopa, through the Midway Valley, the Elk Hills to McKittrick and Reward. In the 1960's the surviving Derrick and Tower, Jameson #17, was saved by civic groups , who convinced Jameson Company to donate the derrick and tower and three acres of land to build the museum. Today that original wooden derrick is visible from State Highway 33,  standing over its original well, with all its cable tools intact, marking the location of the museum.
West Kern County Oil Today
The Oil industry in Kern County is very much alive and well today. Almost half of all the oil in California comes from these Westside oil fields. The Midway Sunset field (the oil field on which the Museum sits) is still the top oil producing field in the United States. It is one of three giant oil fields located in Western Kern County, the other two being the Elk Hills Field, and  the South Belridge Field. The three fields produce over 1 billion barrels of oil each.
*Photos are available as prints and notecards at Marsha's Etsy store: VisualTravelsPhotos.Etsy.com