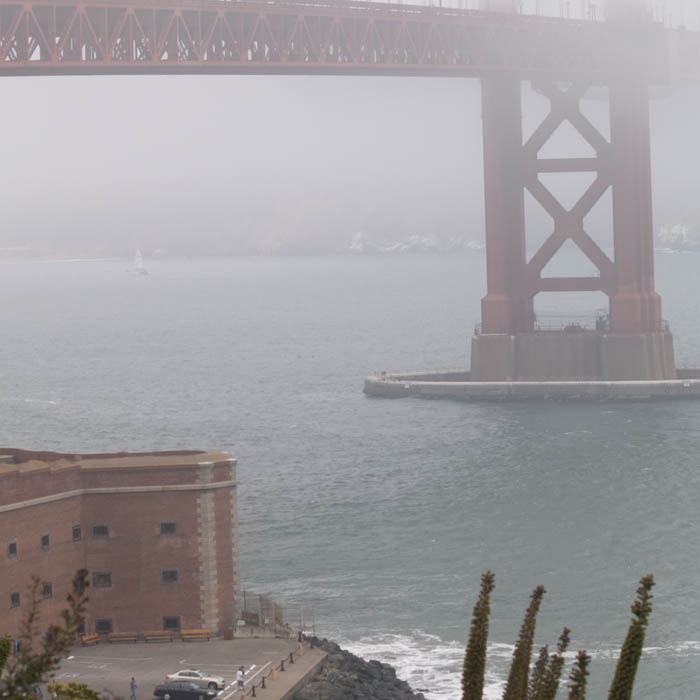 Mastering foggy weather photography is a necessity when visiting San Francisco in the summer and hoping for decent images of your visit.  My husband and I were previewing the landmark Golden Gate bridge one day, in preparation for a visit from our family. Typical San Francisco summer, I thought. Wind, fog and cold. San Francisco in the summer is almost always foggy. The heat in the large agricultural valley running down the middle of the State pulls the fog in from the ocean. Nowhere is the fog more visible in San Francisco than as it comes through the Golden Gate, obliterating the Bridge, freezing tourists, and frustrating anyone with a camera. If you are only in San Francisco for a short time, and this is Your Day to Visit the Bridge, how do you get a decent shot in all this gloom?
The Challenge:  Foggy Weather Photography
Still, we were here, and I wasn't going home without a few shots. As we walked on the over look above Fort Mason, approaching the Bridge, I began to see the photograph emerge. I used my telephoto to focus and take the light reading on the brown buildings at the Fort, and then, holding the shutter button half way down, reframed to include part of the bridge and the water. The fog is there, in all its glory, creeping through the Gate and into the Bay. The mood is somber, but the detail shows up and it tells at least one story of the weather in San Francisco.
Accidental Photographer Tip:
The key to foggy weather photography is taking the exposure reading deliberately on a medium dark neutral element of the photograph. This technique evens out the light reading for the camera, and will pick up the detail of the structures in the image. If I had wanted the Bridge and Fort to silhouette, I would have left the camera on a wide angle and shot. The camera would have picked up the ambient light in the fog, and the Bridge and Fort would have been in shadow.
Decide what you want before you shoot, and then control your camera.  I decided I wanted the detail in the bridge and the fort at its foot, and so that's where aimed the camera's internal light meter.
For simple tips to improve your photography on the go or on your travels with any camera or smart phone, check out my book, The Accidental Photographer for the Camera Bag.
For those of you interested in getting a more  technical foundation, I recommend taking the courses at New York Institute of Photography.  These are online correspondence courses with assignments reviewed by professional photographers.