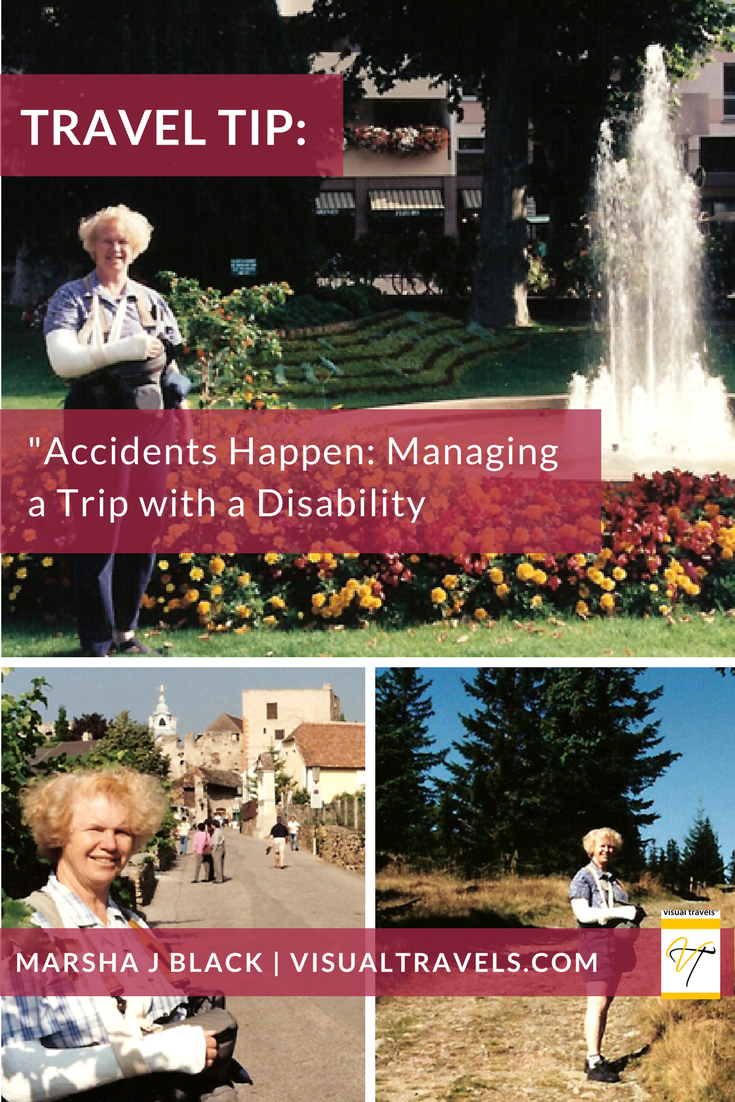 When Accidents Happen:   Tips and Ideas if it Happens to You.
Accidents happen. My husband and I were both healthy when we started our three-week trip driving trip from Colmar, France through the Rhine and Mosel Rivers, Bavaria and the Austrian Salzkammergut (Salzburg, Hallstatt and Gosausee), finishing in Vienna. As we were parking our rental car in the historic section of Colmar, I managed to trip over one of the divider stanchions, fall on my right arm, and dislocate my right elbow.
We decided to continue and complete our trip with a few minor changes. I had a full arm cast from shoulder to wrist, thanks to the local emergency room in Colmar and another outpatient trauma center in Austria.  Europe in general is not handicap friendly but people were attentive and helpful and we had a delightful trip.
We did have to adjust our trip and stay over in Colmar while I recovered enough to continue our travels.  I called the hotels at the Rhine and Mosel to cancel, which wasn't a problem, and we continued by driving from Colmar to Rothenburg, which is a much longer, but doable drive.
When Accidents Happen, Managing Your Trip With A Handicap, and Yes, You Can Still Take Photos!
My husband did all of the driving instead of sharing with me. That meant we stopped more frequently so he didn't become over-tired.
I had to learn how to eat and drink with my left hand and just use my right hand as a prop. After a couple of meals, I got it down. I had a few spills, but for the most part, I was able to feed myself in a civilized manner.
I  learned that the doctors, at least the one I had in Colmar, tended to over-medicate to stop the pain.  I had a very upset stomach that night and the next morning and now know to make my medication desires clear.
And, I had to figure out how to manage my camera and bags.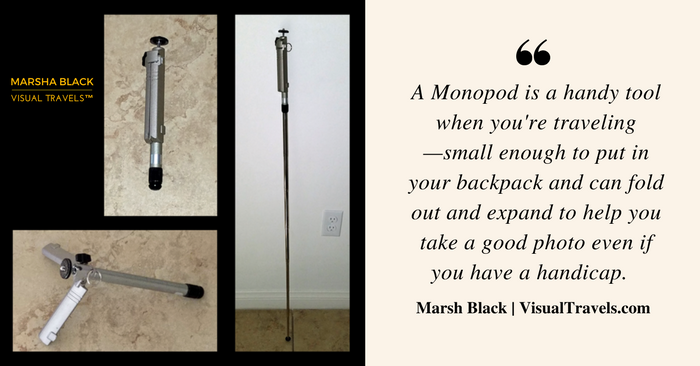 My shoulder was fine, so our oversized backpack travel bags worked were easy to carry.  My husband just had to help me get it on.
I always carried my Single Lens Reflex (SLR) camera and film for the day (this happened in the pre-digital days) in a front camera pack held by shoulder straps across my back.
You can see the camera pack under my cast in the photo. The front of the bag made a platform for my monopod** which allowed me to hold the camera steady.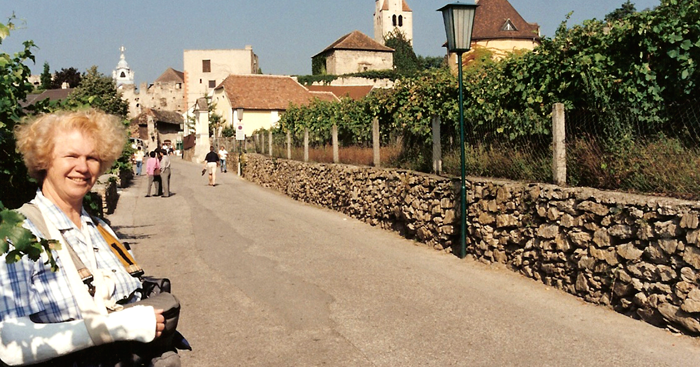 My husband had to help me set up. Once we got that done, I was able to photograph successfully, and when I finished a shot, I slid the monopod behind the bag and let the camera rest on the top so I could get it out again easily.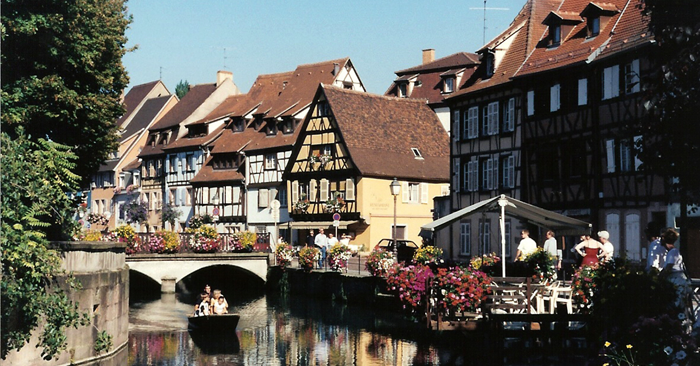 Fortunately, most of my blouses had loose sleeves, so I could wear most of the shirts I brought.  And, of course, I couldn't get the cast wet. That September was a dry year, so rainstorms weren't a problem, but bathing provided an opportunity for some creating thinking.
Differences in medical care:
When we returned, my three weeks for having the cast on was up, and I went to an urgent care center at home to get it removed. My arm wasn't broken. I was told by the doctor that if the accident had happened in the US, I would have had an open and removable cast and have done exercises to instead being put in a permanent cast. Both the French and Austrian doctors agreed that the cast was necessary.
As it was, three weeks in a permanent cast caused muscle atrophy and scar tissue and made a long rehab process necessary. The year was 1999, and it was my first experience with government-sponsored medical care. The treatment was inexpensive in both hospitals. It took weeks to get my muscle tone back and years for the scar tissue to stop giving me problems.
Travel is messy, and can be full of challenges. The trick is to keep your sense of humor, be flexible, and look for solutions rather than problems. This was one of our more memorable trips. The caring and help from the hotel and B & B people and those who stopped us on the street as we traveled is still a warm memory. Given the circumstances,  I wouldn't have handled this trip any other way.
A Word About Travel Insurance
This was our fourth independent travel trip to Europe and the second one for which we had travel insurance. The medical costs were low. Both hospitals insisted on sending us bills rather than letting us pay at the time. Both bills had to be translated, which the insurance did for us. Fortunately, we had the option of continuing our trip and I didn't have to be hospitalized, and we didn't have to adjust our flights to come home or have a medical evacuation. That's where the really expensive cost of an accident is found. US insurance companies will often handle the actual medical costs, but some policies have limits, so it is wise to check before you go. However, none of them will pay for medical evacuation, which can run into the tens of thousands of dollars, and in some cases, over $100,000. Domestic policies also do not pay for local translators.
Languages
As English-speaking Americans, we tend to think the rest of the travel world speaks English. Most of the hotel staff that communicated with the public did speak some English.  However, service personnel generally did not. The French doctors and nurses spoke very little English. However, the Austrian doctors did speak English. Some of the tourist office personnel spoke English and some did not. My husband and I generally took along English-target language dictionaries and spent some time before we left learning the rudiments of the languages in the countries we were visiting so we could communicate on a basic level. That loosened up what English people had.
Monopods and how to choose one  
Garage sales can be great place to pick up some helpful cameral equipment if you know what to look for. The monopod I had on this trip is a great example as my husband found it at a neighborhood sale. Look for a monopod that expands to reach from the bottom of your camera when it is at at eye level to the ground and collapses short enough to go in a camera bag and slide behind your camera bag when you are done photographing. You can also find them at your local camera stores and on Amazon. For example, the Altura Photo 67-Inch Monopod with Universal Remote Control
would work well, and is less than $20 on Amazon and may be in local stores.
Though I'm a fan of buying local and supporting your community camera stores, today not every camera store has what we need.  I bought the one in the photos many years ago from a camera store near our home when independent camera stores could carry a massive inventory of small and diverse items. Those days ended with the recession in the mid 2000s. So, today, for some items we are forced to buy online. From time-to-time, some camera equipment I like will include an affiliate link which helps me cover the cost of this site. Thank you!